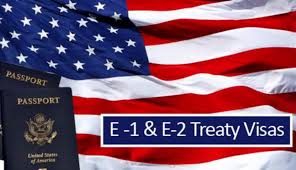 E-1/E-2 visa eligibility generally requires:
A treaty between the U.S. and a foreign country or Congressional act;
That majority ownership or control of the trading/investing company is held by treaty country nationals; and
That each employee or principal of the company seeking E status is a treaty country national.
Dependents (spouses and unmarried children under the age of 21) can join the E-1 or E-2 visa applicant in the United states for the duration of his/her stay. In this case, the dependent must apply for a derivative E-visa.
Treaty Trader (E-1) and Treaty Investor (E-2)