Can You Marry a U.S. Citizen While on a J-1 Visa and Get a Green Card?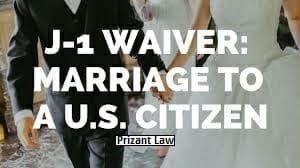 In theory, nothing stops a J-1 visa holder from getting married to a United States citizen. However, the J-1 holder may not be immediately eligible for U.S. lawful permanent residence (a "green card") based on that marriage, depending on the exact terms of the visa—in particular, whether he or she is subject to the "two-year home country physical presence requirement."
Receiving a J-1 visa means that you are part of an exchange program, the goal of which is to promote cultural exchange. If you simply stay in the United States after finishing your time as an exchange visitor, without going home and sharing or utilizing what you've learned, that goal will not have been met.
For this reason, J-1 visas often come with the requirement that the holder return home at the end of the visa term and spend two years there before attempting to return on an H, L, K, or immigrant lawful permanent resident (LPR) visa. (To read the original law on this topic, see Section 212(e) of the Immigration and Nationality Act or I.N.A.).
Does My J-1 Program Come With a Two-Year Home Country Physical Presence Requirement?
Here are the types of programs that normally require J-1 visa participants to be subject to the two-year home country physical presence requirement:
Government-funded exchange programs. This normally means that the program was financed in whole or in part, directly or indirectly, by the U.S. government or the government of the exchange visitor's home country.

Graduate medical education or training programs. If you'll be doing a medical residency on your U.S. J-1 visa, expect to be subject to the two-year home country requirement.

Programs teaching specialized knowledge or skills. If you are from a country that has listed your area of U.S. study as falling within a field of specialized knowledge or skill that's necessary to the development of that country, the two-year requirement will be applied. The State Department keeps this list on the Skill List by Country page of its website.
How Will I Know for Sure Whether I'm Subject to This Requirement?
Check the Certificate of Eligibility (Form DS-2019) that you received from your program sponsor. It has a space showing whether you're subject to the foreign residence requirement. Also look at the J-1 visa that the U.S. consulate gives you. It too should state whether you're subject to the two-year home country physical presence requirement.
Can I Get a Waiver of This Requirement?
A waiver (legal forgiveness) is available, which might allow you to remain in the U.S. and apply to adjust status and receive a green card without leaving and waiting two years first. The bases for requesting such a waiver include:
That you have received a "no-objection statement" from the government of your home country. Contact your home country's embassy in Washington, DC to inquire whether it might be willing to issue you such a statement, saying it doesn't mind your staying in the U.S. despite possibly your having spent its money for your exchange program study.

That your U.S. citizen or lawful permanent resident spouse or child would face exceptional hardship if you were denied a green card and had to return to your home country.For example, if your spouse or child has a medical problem that would be worsened by your departure or by traveling with you to your home country, you might have good grounds for a waiver.

That you would face persecution if you returned to your home country.This is somewhat similar to proving a case for asylum, though the standards are tougher. You'd need to show that you would be persecuted based on your race, religion, or political opinion. But unlike asylum, you can't claim persecution based on your nationality or membership in a particular social group.

That you have received a request by a designated State Public Health Department or its equivalent (Conrad State 30 Program).If you are a foreign medical graduate who got a J-1 visa to pursue U.S. graduate medical training or education, you may obtain such a request if you have an offer of full-time employment at a health care facility in a designated health care professional shortage area or at a health care facility that serves patients from such a designated area; you agree to begin working there within 90 days of receiving the waiver; and you sign a contract to continue working there for a total of 40 hours per week and at least three years.
Request from an interested U.S. government agency. If you're working on a project of interest to the U.S. government, it may support your request for a waiver.
For information about applying for a waiver, see the Waiver of the Exchange Visitor Visa Two-Year Home Country Physical Presence Requirement page of the State Department's website.
What If I'm Not Subject to the Two-Year Home Physical Presence Requirement?
If your J-1 visa did not come with this requirement, count yourself lucky. You will, upon marriage to a U.S. citizen, be able to apply to adjust status immediately, and to complete all your application processing and get a green card without leaving the United States.
The process involves submitting Form I-485 along with other forms, documents, and fees to U.S. Citizenship and Immigration Services (USCIS). You'll submit these by mail.
After that, you'll be called in for collection of biometrics data (fingerprinting) and later for an interview at a local USCIS office. There, your green card will, if all goes well, be approved.
See an Immigration Attorney
You will probably want to consult an attorney to help you figure out whether you are subject to the two-year home residency requirement or not; and if so, whether you might qualify for a waiver and how to apply.
Contact one of our experienced immigration lawyers in New York today at 718-407-0871 or online at https://www.prizant-law.com if you need help with K1 visa or any other solutions to your immigration problems.
Contributed by Svetlana Prizant, Esq., an Award Winning New York Immigration Lawyer
Call or visit Prizant Law at:
Prizant Law
118-21 Queens Blvd Suite 507
Forest Hills, NY 11375
(718) 407 0871