U.S. asylum laws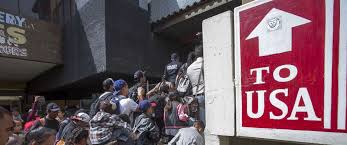 U.S. asylum laws — here's what to know
The clash between the migrant caravan and U.S. authorities along the Mexican border in recent days highlights a contentious topic in the immigration debate: asylum laws. Federal law recognizes the right of asylum, and tens of thousands of refugees settle in the U.S. every year. However, proponents of stricter immigration laws say that the asylum system is being abused by migrants, such as the people traveling in the recent caravans.
Who can apply for Asylum
Federal law states that anyone can apply for asylum on U.S. soil, regardless of immigration status. They can also apply for asylum at a designated point of entry.
Why is asylum an issue now
U.S. immigration courts are currently overwhelmed with asylum applications, with a backlog of some 750,000 claims. Asylum applications jumped 35 percent between fiscal year 2016 and 2017, according to the Southern Poverty Law Center, which was driven in part by a surge in applications from people fleeing violence in Central America and Mexico.
The vast majority of people attempting to file an asylum claim are allowed to do so once they reach the U.S., but often don't see a judge for several years while they wait to see a judge. According to the Washington Post, only 10 percent of applicants from Central America are ultimately granted asylum by a judge, but in the meantime many are allowed to reside in the U.S
The Trump administration views this situation as unacceptable, and President Trump dispatched military forces to bolster the border ahead of the caravan's arrival. Mr. Trump also tweeted that migrants attempting to apply for asylum at the southern border will not be allowed to stay in the U.S. and will instead have to wait in Mexico while their claims are being processed. Mr. Trump heralded this new plan, which the Post reported has the support of the incoming Mexican administration, as the end of a policy he's dubbed "catch and release."
In November, President Trump announced a new rule that would bar immigrants illegally crossing the southern border from applying for asylum.
What the courts are saying
Some of Mr. Trump's attempts to restrict immigration to the U.S. have been struck down by the courts. Last week, for example, a judge ruled that his administration could not bar immigrants who enter the country illegally from applying for asylum. And it is unclear whether Mr. Trump will be able to block asylum seekers from residing in the U.S., although he has threatened to close the southern border if his demands are not met.
Contact one of our experienced immigration lawyers in New York at 718-407-0871 or online at https://www.prizant-law.com if you need help with applying for asylum or any other solutions to your immigration problems.
Contributed by Svetlana Prizant, Esq., an Award Winning New York Immigration Lawyer
Call or visit Prizant Law at:
Prizant Law
118-21 Queens Blvd, Suite 507
Forest Hills, NY 11375