U.S. Citizen Petition for a Spouse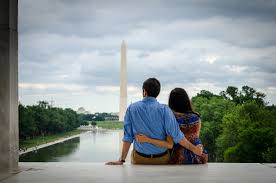 Who is eligible?
If you are a U.S. citizen, you can file a petition for your foreign-born spouse and, under certain situations, the children of your spouse.
To petition for your spouse's child(ren) the child must be unmarried, under 21 years old, and was under the age of 18 at the time of your marriage to your spouse.
The U.S. citizen would need to file a separate Form I-130 for each child of his or her foreign-born spouse.
How to Apply
To establish your family relationship, you as the U.S. citizen petitioner, must:
Complete the Form I-130, Petition for Alien Relative.Refer to Form I-130 instructions for further details. If your spouse is inside the United States (through lawful admission or parole) your spouse can file Form I-485, Application to Register Permanent Residence or to Adjust Status, at the same time. Your spouse should refer to Form I-485 instructions or go to the Adjustment of Status page for more information.

Submit the Filing Fee(s).Include the appropriate filing fee with your Form I-130. Refer to Form I-130 instructions for details.

Submit Evidence.Include all supporting documentation.

Evidence to show you are a U.S. citizen,

If you were born in the United States, a copy of birth certificate, issued by a civil registrar, vital statistics office, or other civil authority.

A copy of your Naturalization certificate or Certificate of citizenship issued by USCIS or the former INS.

A copy of Form FS-240, Consular Report of Birth Abroad (CRBA), issued by a U.S. Embassy or U.S. Consulate;

A copy of your unexpired U.S. passport or passport card.

An original statement from a U.S. consular officer verifying that you are a U.S. citizen with a valid passport.

A copy of your civil marriage certificate,

A copy of all divorce decrees, death certificates, or annulment decrees that demonstrate that all previous marriages entered into by you and/or your spouse were terminated,

Passport-style photos of you and your spouse (if he or she is in the United States),

Evidence of all legal name changes for you and/or your spouse (may include marriage certificates, divorce decrees, court judgment of name change, adoption decrees, etc.), and

Documentation to prove you have a bona fide marriage.

Sign and File the Form I-130. File the petition at the correct filing location according to form instructions.

If you choose to file a Form I-130 for your stepchildren you are required to provide the evidence listed above plus the child's birth certificate and any other evidence to prove your relationship to the foreign-born child.
What Happens After You Apply?
Once USCIS receives the Form I-130, we will process your petition and then you will receive:
A receipt notice confirming that USCIS received the petition.
A notice for a biometrics appointment date, if filing the Form I-130 and Form I-485 together;
An interview appointment date may be scheduled; and
A written notice of decision.
If USCIS approves the petition and your spouse is overseas, we send it to the U.S. Department of State's National Visa Center (NVC).
When a visa is available, the NVC will notify you and your spouse, inviting your spouse to apply for an immigrant visa. Your relative should refer to the Consular Processing page for more information.
When the time comes for your spouse and any stepchildren to immigrate, you must agree to be their financial sponsor by filing Form I-864, Affidavit of Support.
Forms and Fees
Contact one of our experienced immigration lawyers in New York at 718-407-0871 or online at https://www.prizant-law.com if you need help with Wava self-petition case or any other solutions to your immigration problems.
Contributed by Svetlana Prizant, Esq., an Award Winning New York Immigration Lawyer
Call or visit Prizant Law at:
Prizant Law
118-21 Queens Blvd, Suite 507
Forest Hills, NY 11375