How to file for TPS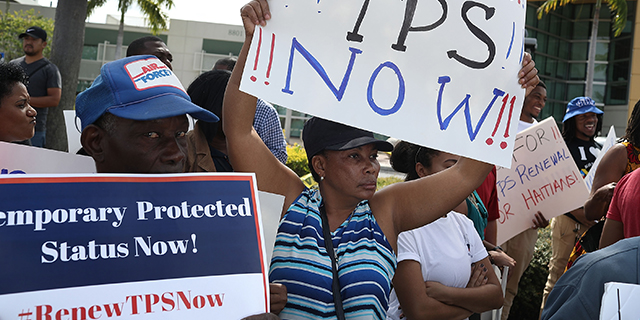 How to file for TPS (temporary protection status)
Temporary protection status is granted by the Secretary of the Department of Homeland Security (Secretary) to eligible foreign-born individuals who are unable to return home safely due to conditions or circumstances preventing their country from adequately handling the return.
When can the Secretary designate a country for TPS?
The Secretary can designate a country for TPS due to:
Ongoing armed conflict (such as civil war),
An environmental disaster (such as earthquake or hurricane), or an epidemic, or
Other extraordinary and temporary conditions.
Who is eligible for TPS?
TPS can be granted to an individual who is a national of a designated country, has filed for status during a specified registration period, and who has been continuously physically present in the U.S. since a designated date.
What are the benefits of TPS?
During a designated period, TPS holders are:
Not removable from the U.S. and not detainable by DHS on the basis of his or her immigration status,
Eligible for an employment authorization document (EAD), and
Eligible for travel authorization.
When do TPS designations expire?
 

Country

Most Recent Designation Date
Secretary's Decision Due
Expiration Date Or Extension Date
Due to Litigation DHS Automatic Extension of Documentation Expiration Date
Sudan
5/3/2013
N/A
11/2/2018
1/4/2021
Nicaragua
1/5/1999
N/A
1/5/2019
1/4/2021
Nepal
6/24/2015
N/A
6/24/2019
1/4/2021
Haiti
7/23/2011
N/A
7/22/2019
1/4/2021
El Salvador
3/9/2001
N/A
9/9/2019
1/4/2021
Honduras
1/5/1999
N/A
1/5/2020
1/4/2021
Syria
8/1/2016
1/20/2021
3/21/2021
N/A
Yemen
3/4/2017
7/5/2021
9/3/2021
N/A
Somalia
9/18/2012
7/19/2021
9/17/2021
N/A
South Sudan
5/3/2016
03/4/2022
5/2/2022
N/A
Can I apply for TPS?
To be eligible for TPS, you must:
Be from, or have last lived in, a country the United States has put on the TPS list.
Have lived in the United States without leaving (other than for "brief, casual, and innocent travel") since the most recent "designation date," the date your country was put on the TPS list.
Have lived in the United States from your country's "continuous residence" date on the TPS list.
File during an open registration period for your country or meet a late filing exception.
Have a good criminal record. You may not meet the requirements for TPS if you have been convicted of a felony or two or more misdemeanors in the United States.
Not be "inadmissible" under the United States law. Some things that can make you inadmissible are criminal convictions, violating immigration laws, and medical issues.

Example: You are from Nepal. You came to the United States before June 24, 2015, the "designation date." You have lived in the United States ever since. There is nothing like a bad criminal record that makes you "inadmissible." You could apply for TPS between June 24, 2015 and December 21, 2015, the open registration period.
How do I apply for TPS?
You should look for help from an immigration lawyer to make sure you are eligible before you apply for TPS. You can apply for TPS by filling out Form I-821. You will also need to submit:
A filing fee of $50
A biometrics fee of $85 if you are over 15 years old
Evidence that proves who you are
Evidence that you are a national of the country on the TPS list.
Proof that you lived in the United States since the most recent "designation date" for your country.
If you wish you receive a work permit, you must also submit:

Form I-785
A filing fee of $410 or a fee waiver request on Form I-912.
What happens after I have TPS?
During the time that you have TPS, you:
Can get work authorization,
Can't be removed from the United States,
May apply for permission to travel outside the United States, called "Advance Parole."
Must re-register during the re-registration periods for your country. See the TPS list for re-registration periods.
Can I apply for other forms of immigration relief while I have TPS?
Yes. If you are eligible for another form of immigration relief, you may want to apply while you have TPS, because TPS does not lead to permanent status.
Do I run any risks if I apply for TPS?
You should talk to a qualified immigration lawyer before applying to TPS. Some risks may include:
If your application is denied, you may be placed in removal proceedings.
USCIS will have your fingerprints and biometric information on file.
Contributed by Svetlana Prizant, an Award Winning New York Immigration Lawyer
Call or Visit Prizant Law Today At:
Prizant Law
118-21 Queens Blvd Suite 507
Forest Hills, NY 11375
718-407-0871