Criminal Immigration Fraud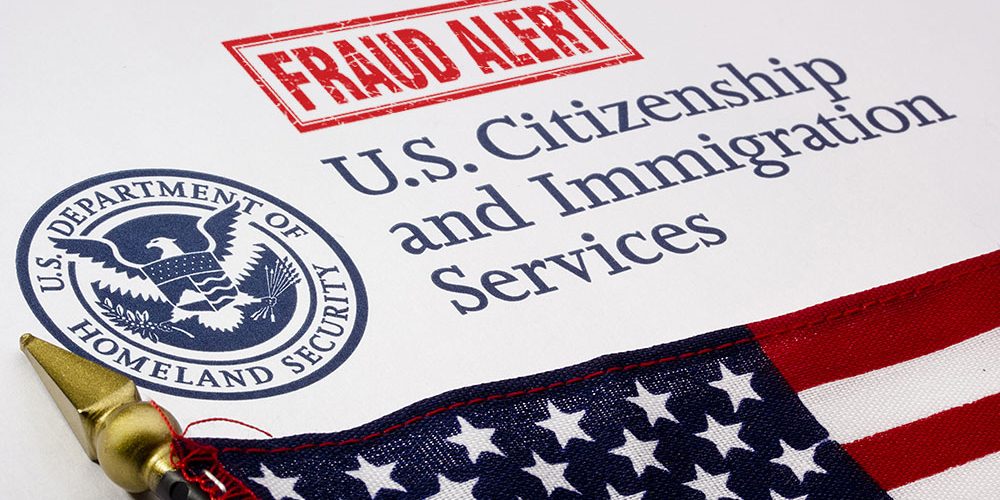 Criminal Immigration Fraud
Immigration fraud is a term that is used to describe a fraudulent immigration act. Performing fraudulent immigration acts may result in federal criminal charges and penalties. The federal government takes all allegations of fraud connecting to immigration very seriously. Individuals that are accused of committing fraudulent acts can face criminal prosecution, their freedom, and their right to remain or reenter their country.
Criminal/ Federal Immigration Frauds:
Any person who attempts to avoid U.S immigration laws through the act of fraud can face severe criminal charges for immigration fraud. This includes:
Lying on an immigration form.
Entering a marriage for the purpose of obtaining a green card.
Entering a marriage for the purpose of helping someone gain entry to the country.
Changing an immigration document.
Using a false identity on an immigration form.
Making a false statement or claim for the purpose of obtaining employment.
Committing forgery.
Fraudulently representing yourself as an immigration attorney.
Using someone else's identity to complete a visa application.
Marriage Fraud:
The most common type of immigration fraud is marriage fraud where one enters the marriage for the full purpose of obtaining citizenship or for helping someone gain entry to the country.  Individuals that are suspected of marriage fraud are put through investigation by the federal government.
Identity Fraud:
Identity fraud, benefit fraud, and document fraud are all federal offenses that can be tied to immigration fraud when the fraudulent acts are committed for evading U.S. immigration laws. Document fraud includes altering, manufacturing, counterfeiting, and or using identity documents or other fraudulent documents to avoid immigration laws. Benefit fraud is a willful misinterpretation of a petition to gain immigration benefits. Identity and benefit fraud are investigated by the U.S. Immigration and Customs Enforcement (ICE) division of the Department of Homeland Security, which identifies prosecuting individuals that are suspected of these federal crimes.
Punishments for Immigration Fraud:
Immigration fraud is a federal offense that results in long-lasting penalties. Different punishments are given to different cases. For instance, entering a fraudulent marriage for the purpose of obtaining lawful permanent residence status as a non-citizen is punishable for up to 5 years in jail and or a fine of $250,000. if the crime is committed to facilitating an act of international terrorism, then the victim is sentenced to up to 20 years in prison. Having an immigration fraud conviction is your criminal record may cause difficulty in employment or obtaining government benefits. For instance, if you violate federal law by committing marriage fraud you can be deported and denied re-entry into the United States. However, if you are a noncitizen staying in the United States through a visa, and convicted of a federal crime, it could cause you to lose your legal status and be ordered to leave the country immediately.
Defense strategies for Immigration Fraud:
Some possible defenses that a lawyer may use in your immigration fraud case are:
Proper documentation for your immigration
Your marriage is legal and valid
You committed the immigration fraud under duress
If you are seeking citizenship or permanent residence status for yourself or a loved one, contact the knowledgeable top rated New York immigration lawyers in Queens, NY at 718-407-0871
Contributed by Svetlana Prizant, an Award Winning New York Immigration Lawyer
Call or Visit Prizant Law Today At:
Prizant Law
118-21 Queens Blvd Suite 507
Forest Hills, NY 11375
718-407-0871