WHY IMMIGRATION WAIVERS GET DENIED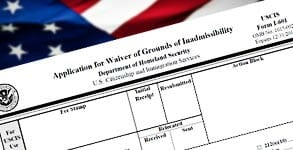 Why Immigration Waivers Get Denied:
No Extreme Hardship– this may sound obvious, but it appears to be the most prevalent basis for denial. Unfortunately, some officers are not being reasonable in reviewing these cases. As such, they are not finding extreme hardship to qualifying relatives, typically United States citizen spouses. The problem is that the standard is not being applied properly. Moreover, appeals are not allowed.
The Good News: 601A can be re-filed and make with stronger arguments by addressing the reasons why immigration waivers get denied the first time.
Reason to Believe– this issue is most unfortunate. Officers seem to be applying an unreasonable review in denying 601A waiver– where applicants have, for example, been arrested – even when the run-in with the law is not a ground to deny a case. The approach one might take here: demonstrate that there is no actual crime. Alternatively, if there was an offense, show that it was not serious enough to deny a green card.
The Good News: this is a complex issue, but an experienced and top rated immigration lawyer should be able to help and USCIS has revisited the analysis since the initial denials.
Not Enough Evidence– this pattern has emerged already in a number of 601A denials. Cases were prepared by people who did not consult with the right lawyer or tried to file on their own. When you submit an immigration waiver, you cannot merely attach a handful of exhibits and hope for the best.
MISTAKES TO AVOID WHEN APPLYING FOR 601A WAIVER!
PLEASE do not go to a travel agency for immigration advice.
Also, avoid law firms that handle "some" immigration cases along with other types of legal matters.
Do not try to do it yourself.
Contact one of our experienced immigration lawyers in New York today at 718-407-0871 or online at https://www.prizant-law.com if you need help with filing extreme hardship 601A waiver or any other solutions to your immigration problems.
Contributed by Svetlana Prizant, Esq., an Award Winning New York Immigration Lawyer
Call or visit Prizant Law at:
Prizant Law
118-21 Queens Blvd Suite 507
Forest Hills, NY 11375
(718) 407 0871
https://www.prizant-law.com/