Changes to the USCIS Civics Test for Naturalization Applicants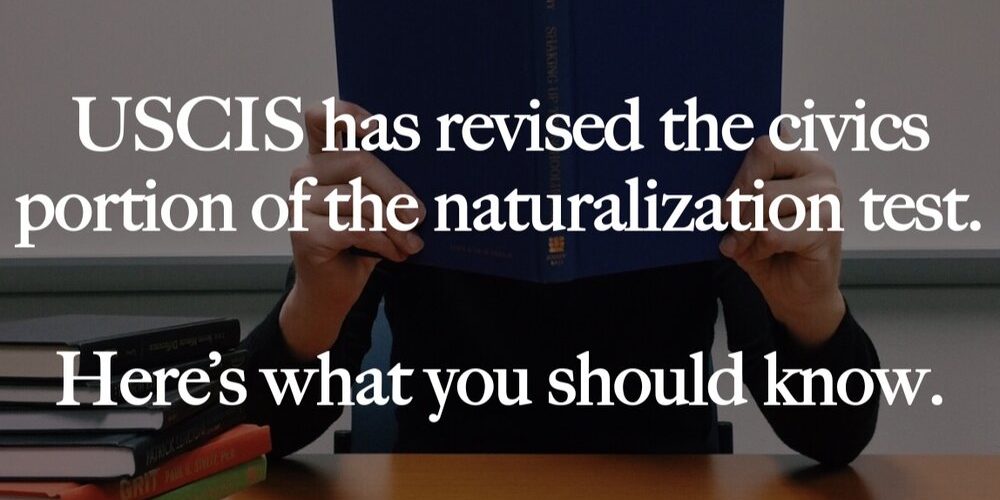 NEW changes to the USCIS Civics Test for Naturalization Applicants
USCIS has revised the civics test for all naturalization applicants who apply after Dec. 1, 2020. Now, a USCIS officer will ask you to answer 20 (out of 128) civics questions. Previously, it had been 10 questions out of 100. You must answer at least 12 questions correctly to pass (it used to be 6 correct answers to pass). All questions on the test are asked orally.
At this time, no changes to the English competency portion of the naturalization examination have been announced. You must demonstrate an understanding of the English language, which is the ability to comprehend, speak, read and write basic English. This is demonstrated by understanding and answering the USCIS officer's questions about your application itself, reading aloud a single sentence of basic English and writing a single sentence of basic English dictated to you by the USCIS officer.
You are given two opportunities to pass the naturalization civics.  Also, you are given two opportunities to pass English competency tests. If you fail any part of the civics or English sections at your initial examination, you will automatically be scheduled to retake the exam section that you failed within the next 60 to 90 days.
For those who want to know current processing times on naturalization, our office is seeing individuals residing in New York area being scheduled for their initial naturalization examination within 60 days of filing their applications.
Questions about how to prepare for your initial examination with USCIS? Please contact our experienced  New York immigration lawyer to schedule your consultation.
Contributed by Svetlana Prizant, an Award Winning New York Immigration Lawyer
Call or Visit Prizant Law P.C. Today At:
Prizant Law P.C.
118-21 Queens Blvd Suite 507
Forest Hills, NY 11375
718-407-0871