Who Can Get a Green Card Through Adjustment of Status?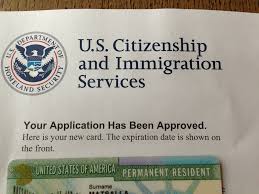 Adjustment of Status (AOS) refers to the process by which a non-immigrant can change his/her status to that of a Legal Permanent Resident (Green card holder) if they meet certain requirements without having to leave the United States. This process is provided for by Section 245 of the Immigration and Nationality Act.
AOS can only be allowed if an immigrant visa number is readily available to the intending immigrant. A person must be physically present in the United State to apply for AOS, exiting the country during the process may be considered as abandonment of the adjustment application, where prior permission (Advance Parole) has not been granted. Please note that some non-immigrants with certain temporary work visas are exempt from filing an application for advance parole.
Disqualifications for Adjustment of Status:
However, there are certain non-immigrants who are ineligible to adjust status within the United States. Some of these are:
Anyone whose authorized stay in the United States expired before filing of the application

A non-immigrant who works without authorization from the USCIS

A non-immigrant who is already in conditional resident status

A non-immigrant who was admitted as a visitor under the Visa Waiver program

A J-1 or J-2 exchange visitor who is subject to the two-year foreign residency requirement and who did not obtain a waiver of this requirement under Section 212 of the INA

A non-immigrant who failed to maintain continuous lawful status since entry into the United States except for where such failure was due to no fault of the immigrant or it was for technical reasons

Anyone who entered the United States in transit without a visa

A non-immigrant who was not inspected and admitted by an immigration officer

A fiancé (e) who entered on a K-3 visa and seeks to adjust based on a marriage to someone other than the U.S. citizen who filed the original K visa petition
Exception for Relatives of a US Citizen
Immediate relatives of United States Citizens are exempted from some of these grounds of ineligibility.
1. Inspection and Admission or Parole to the United States
The law requires that a non-immigrant must at the time of entry into the country present him/herself to an immigration officer for questioning, this constitutes inspection. Admission occurs when the Immigration officer permits the individual to enter the country after being found to be admissible. It is important that proof of inspection and admission is included with the adjustment packet; popular evidence is the Form I-94 Arrival/Departure Record. Ordinarily, an immediate relative of a USC who was not legally admitted and inspected cannot adjust status within the United States. The application of this requirement is strict, however some exceptions exist and these include: VAWA applicants, Asylees, applicants under Section 245 (i) of the INA and certain special immigrants.
2. Admissibility under Section 212(a) of the INA
There are certain grounds of inadmissibility that may prevent an individual from eligibility to adjust status within the U.S. The main grounds of inadmissibility fall into 5 broad classes; Criminal grounds of inadmissibility, Health-related grounds of inadmissibility, Security grounds of inadmissibility, Immigration violation grounds, and Public Charge. The law however provides for waivers of some of these grounds. A waiver can be viewed as a pardon of the ground of inadmissibility.
3. Eligibility to Receive an Immigrant Visa
There are four main categories through which a person can qualify to receive an immigrant visa
Family Based Immigrant Visa: A person may qualify as an immediate relative of a USC (these are defined as spouses and children of U.S citizens and also includes parents where the petitioner is over the age of 21); or as one of the four preference categories (Unmarried sons and daughters of U.S. citizens; Spouses and unmarried sons and daughters of lawful permanent resident aliens; Married sons and daughters of U.S Citizens; and Brothers and sisters of U.S citizens).

Employment Based Immigrant Visa: The INA provides for five preference categories, these include: Priority workers (aliens with extraordinary abilities, outstanding professors and researchers, and certain multinational executives and managers); Professionals with advanced degrees or its equivalent, or those who will contribute to the national economy, cultural or educational interests or welfare of the U.S due to their exceptional ability in sciences, business or arts; Professionals with only Baccalaureate degrees and those classified as skilled and unskilled workers who will fill positions for which there are a shortage of American workers; Special Immigrants such as religious workers, former long time employees of International organizations or U.S government ; and Investors with a minimum of $1,000,000 ($1million) investment and whose investment creates a minimum of 10 American jobs (this requirement is reduced in rural areas or areas with high unemployment rates).

Diversity Visa: Also referred to as the U.S visa lottery. This system is provided for under Section 203 (c) of the INA. Applications are received online and applicants may file only one application per year. There are some basic requirements to qualify such as: (i) applicants must have a high school education or its equivalent; or (ii) applicants must have at least two years experience in an occupation that requires at least two years of training of experience, within the five years immediately preceding the application. Visas are awarded on a first come first served basis.

Refugees: A person who qualifies as a refugee as defined by Section 101(a)(42)(A) may be eligible for asylum in the United States. A grant of asylum eventually leads to lawful permanent residence in most cases. To qualify the individual involved must show that he/she is unable or unwilling to return to the country of nationality and is unable or unwilling to avail him/herself of the protection of that country due to past persecution or a well founded fear of future persecution on account of the individual's race, religion, nationality, political view, or membership in a certain social group. The persecutor may be either the government of that country or other groups that the government is unwilling or unable to control.
Availability of a Visa Number
In order to adjust status a visa number must be readily available to the intending immigrants. There are a set number of visas available to intending immigrants each year. The available visa numbers and current priority dates can be found in the monthly Visa Bulletin issued by the Department of State. 'Priority date' is the date on which a family visa petition is filed with the USCIS or the in the case of an employment based petition, the date a Labor Certification is filed with the Department of Labor. Thus, a beneficiary of a Visa Petition can apply to adjust status only when he/she's priority date is current. Immediate relatives of United States Citizens are exempted from this requirement as they are not subject to the quota system.
A non-immigrant who meets the foregoing requirements and is not subject to any ground of inadmissibility may be able to adjust status to that of a lawful permanent resident within the United States by filing USCIS form I-485 (Application to Register Permanent Residence or Adjust Status) with all other mandatory governmental forms, relevant documentation and current processing fees at the relevant USCIS field office.
The immigration laws of the United States are complex, abundant and have changed through the years. A lot of immigrants are under the misguided impression that immigration process is about the filling of and submission of forms. This misconception has led a lot of people to make costly mistakes. It is wise for an intending immigrant or petitioner to seek the counsel of a competent attorney before undertaking the immigration process.
Contributed by Svetlana Prizant, an Award Winning New York Immigration Lawyer
Call or visit Prizant Law at:
Prizant Law
118-21 Queens Blvd Suite 507
Forest Hills, NY 11375
(718) 407 0871