O-1 Visa Lawyer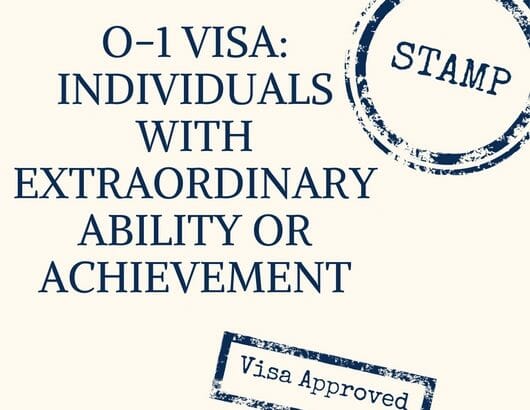 O-1 Visa Lawyer
If your company needs to bring someone with extraordinary ability into the United States for work, you should consider consulting with an O-1 visa lawyer.
An O-1 visa is designed to allow foreigners at the very top of the arts, sciences, sports, education, business, motion picture or television industries entry into the United States for work for an initial period of up to three years.
O-1 visa extensions can be obtained if the person of extraordinary ability is needed in the United States beyond three years. An important reason to consider an O-1 visa when possible is that essential assistants of the person with extraordinary ability can qualify for an O-2 visa, which allows them entry into the United States for work as well. For example, a scientist might be able to obtain an O-2 visa for an essential lab assistant or an actor may need an O-2 for a publicist.
O-1 Visa Qualifications
To qualify for an O-1 visa, the applicant must be able to demonstrate that he or she has received sustained acclaim either nationally or internationally and is seeking entry into the United States to work in the same field for which the acclaim was achieved.
In the sciences, business, education and athletic fields, this means that the person can demonstrate that he or she is at the very top of the profession. In the arts, the person must have achieved distinction, which means he or she is a leading figure or person of renown in the field.
Applicants for an O-1 visa for television or motion pictures must be able to show that they are leading or notable persons in the field.
O-1 Visa Process
To receive an O-1 visa, an employer must file form I-129 along with a written advisory opinion from an industry peer group or labor union. If an O-1 Visa is sought for someone in motion pictures or television a written advisory opinion must be obtained from a management organization and an appropriate labor union. A copy of the contract between the employer and the O-1 visa beneficiary must be filed. If the contract is oral, a summation of the terms must be filed.
Finally, an itinerary must be filed including an explanation of the nature of events the visa beneficiary will participate in and their beginning and ending dates. Once our O-1 visa lawyers file all the information and documents, USCIS will make a decision on the application. Due to the O-1 visa processing time, it is important for everything to be filed at least 45 days before entry into the United States is sought.
A qualified O-1 visa attorney can help make sure that all of your documents and evidence are submitted according to the regulations and deadlines.
O-1 Processing Time
On average, the O-1 processing time is faster than that of other visas like the H-1B visa. However, you should still allot three to four months for the application to process. Because the I-129 petition's processing time is dependent on the service center that is responsible for processing it, determining the exact amount of time to expect can be difficult.
O-1 Visa Change of Status
In some cases, an individual on O-1 visa status may seek a change of status (COS) to another non-immigrant status or even permanent residency. This is because the O-1 visa classification is considered to have "dual intent", meaning that, unlike other work visas like TN and J-1, you are able to pursue your green card while on O-1 status. If you are in the U.S. and wish to change your status you must first meet the following criteria:
Been admitted into the country on a non-immigrant status (like O-1)
Have not committed a crime or any other act that would cause them to be ineligible for immigrant benefits
There cannot be any outstanding factors that would require them to leave the country prior to changing classifications
Has to request a change of status application prior to the expiration date of the I-94
O-1 Visa v. H-1B Visas and Other Work Visas
Since the H-1B visa and O-1 have many of the same eligibility requirements, individuals often want to know the advantages of one over the other. There are three distinct advantages to choosing an O-1 visa over an H-1B. The first advantage is that there's no annual
The first advantage is that there's no annual quota imposed on the H-1B. Each year, the H-1B is limited to 65,000 in the regular cap and an additional 20,000 in the master's exemption. On the other hand, the O-1 has no annual quota and is available to anyone who fits the qualifications.
The second advantage is the ability to extend your O-1 visa in one-year increments after the initial three-year granting period. These extensions can be granted indefinitely as long as the visa holder maintains his or her nonimmigrant status and can provide proof that an extended stay in the U.S. is necessary for the completion of the work that initially brought the beneficiary to the country.
How Our O1 Visa Lawyers Can Help
Our O-1 visa lawyers can help you go from an O-1 visa to green card status if you decide to reside permanently in the United States. Our attorneys understand the required documentation necessary to prove extraordinary ability and can help you avoid unnecessary obstacles throughout the application prices.
Our Immigration Lawyers specialize in employment based green card and can advise you on other work visa options if O-1 visa is not suitable in your situation.
If you need a person of extraordinary ability to stay in the United States for longer than the original O-1 visa, we can help with getting O-1 visa extensions. Our O-1 lawyers can assist with getting O-2 visas for essential assistants and visas for the dependents of O-1 visa beneficiaries.
Our O-1 visa Lawyers offer extensive immigration consultation to persons interested in O-1 and other work visas.