Svetlana Prizant, Esq.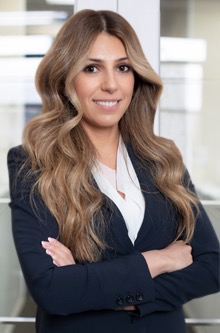 Svetlana Prizant, Esq., is the Managing Attorney of the firm and has personal experience in the immigration and naturalization process as an immigrant herself. Svetlana Prizant, Esq., was honored with a Super Lawyer Award of 2021 and 2020 and designated as a Rising Star by Super Lawyers Magazine in the field of Immigration Law. In 2019, she was named one of the ten best attorneys in immigration law by The Legal Practice Magazine. In 2018 she was one of the Top Forty Under Forty Honorees by the American Society of Legal Advocates and received the client satisfaction award by the American Legal Counsel Institute.
Using legal experience combined with an understanding of the immigrant communities Mrs. Prizant represents, she has repeatedly obtained extraordinary results for her clients. Mrs. Prizant began her practice with the sole intent of providing one-to-one service to all her clients. Her interest in immigration law stems from her personal background as well as her belief in the essential role immigrants play and the positive contributions they make to American society. Having immigrated to the United States she has experienced first-hand all phases of the immigration and naturalization process.
While in private practice in the most densely immigrant-populated area of the United States, Queens, New York, Mrs. Prizant handled immigration matters ranging from tough criminal deportations, to political asylum, complex family petitions, appeals and motions to reopen as well as all business related immigration matters. As a New York immigration defense lawyer, she has worked with immigrants from all over the world, including Eastern Europe, (Russians, Ukrainians, Uzbekistanis, Georgians, Albanians); Latin America (Colombians, Ecuadorians, Dominicans, Mexicans, El Salvadorians, Hondurans, Guatemalans, etc.); the Middle East (Egyptians, Yemenis, etc.); The Caribbean, (Haitians, Trinidadians); and The Indian Subcontinent (Indians, Pakistanis, Bangladeshis). Defending immigrants from incredibly diverse backgrounds in the bustling melting pot that is New York City has sensitized Mrs. Prizant to the specific needs and the cultures of clients from all these regions. Mrs. Prizant is admitted in the New York Appellate Division of the Supreme Court, Second Department. She is also a weekly columnist for the Ladies' World Magazine and Queens Ledger newspaper.
Mrs. Prizant obtained her Bachelor of Arts in Political Science from Queens College and her Juris Doctor from the St. John's University. As a law student, she gained practical experience at two competitive Clinics: Asylum and Refugee Rights Clinic and The Child Advocacy Clinic.